Are you looking for the Best Heating & Cooling System for your house?
If you are looking for the best air conditioner near me brand and system to install into your home during your home improvements or because the ceiling fans small amount of cool air distribution just is not enough, this article may just be very helpful to you.

Today, I will show you the 10 best air conditioning and heating systems and name brands that come highly recommended for all homeowners to install into their homes. Each of the following systems I have listed for you below has proven themselves over the years to be the most trustworthy and reliable HVAC systems available on the market today.
To learn about what is the best air conditioning system to buy, please be sure to watch the following video:
So with no more hesitations, let's get started talking about the best HVAC brands for the comfort of your home today!
10 Best Home Air Conditioning Brands and Systems For Home Improvements
1. American Standard
This brand is a member of the Ingersoll Rand Group. This group classifies their AC units into silver, platinum and gold levels respectively. The air conditioners are usually rated according to comfort, efficiency, and cooling stages.
American Standard also uses AccuComfort technology and additionally offers variable speed operation which allows your system to be able to easily adjust to run in a more effective speed.
These brands of air conditioners are normally coupled with a feature that is up to 22.00 SEER rating. The American Standard Heating & Cooling offers HVAC units that are very efficient and provide multi-stage cooling options and is easy to install.
2. Amana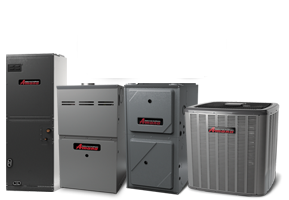 This is a name that is very popular in the central air conditioning department. Amana is also a subsidiary of Goodman. They have been able to offer a broad range of SEER ratings that normally range from around 13 all the way up to 18.
You will find that most experts normally are in agreement that a 16 SEER rating is the ideal setting for the vast majority of homeowners. The good thing about this brand is that the designers of the air conditioners have tried to keep it quiet with some insulation. This brand of HVAC unit has the benefit of being compatible with ComfortNet home monitoring devices.
3. Bryant
This brand comes with the great advantage of offering the flexibility of rooftop and standard central AC systems as well as evaporative coolers. They offer different ac models such as wall air conditioners, window air conditioners as well as small portable air conditioners which are perfect for cooling a room.
The reality is that B models usually do carry the evolution and legacy names. There are customers that like the Aero Quiet systems which are able to reduce the noise levels of some models of room air conditioners to just 68 decibels.
Another incredible selling point is the high tech thermostat that allows you to program your cooling and heating needs for a couple of days in advance. You can add humidity control which will ensure your comfort is not compromised on hot days and that you do not have to make daily adjustments.
4. Carrier
This company has been able to design both window ac and large air conditioners that feature comfort, infinity, and performance respectively. For those homeowners who favor deck installation, the performance is the best option.
Carrier has been able to produce models that can operate at 67 decibels which enables it to give an incredible 18 SEER rating. For instance, the technophiles and specifically the infinity series is able to offer a variety of gadgetry which will help you in ensuring the system operates at its peak and ensures total comfort.
5. Goodman
One thing that is for sure is that if you are buying an air conditioner from a firm, then you are actually buying an American product. This company was founded in the year 1975 and has been assembling its models all over the United States.
Goodman provides air conditioners that have a SEER rating that ranges from 13 to 18. This company actually offers lifetime warranties to top models and some have a ten-year parts warranties too. The models of air conditioners this company makes are usually Energy Star rated.
6. Lennox
This is a company that has been known to be a leader in the air conditioning department for a long time. This company has been excellent in the innovation and creation of its heating and cooling products.
The reality is that the air conditioners Lennox manufacture are long-lasting and energy-efficient. The air conditioners you get from Lennox are not noisy and will be ideal for either residential or commercial use.
7. Mitsubishi Electric
This company is famously known for quality electronics and not many people know that it also makes quality HVAC products. This company has been selling top-quality HVAC products since the year 1980.
Mitsubishi Electric is very cautious of the environment and therefore the products it makes and the interest-based ads they release are environmentally sensitive. If in particular, you want a 30.5 SEER system, you should not hesitate but get it from Mitsubishi electric.
This is what the company stands for as energy star certifications are usually par for this course. Mitsubishi makes air conditioners that are efficient and their performance is also very high. The air conditioner you get from this company is reliable and durable. They also provide a 10-year warranty for the compressor and other parts.
8. Rheem
This brand is one of the new ones and it comes with an eye-catching tagline which states "a new degree of comfort". This company is well known for making an incredible two-stage air conditioner units.
One of the things that are critical is active communication between the system and the user as it ensures you enjoy all the functions the air conditioner has. If you are not fond of communicating with the system, then you should go for the automated model which works out everything as planned out.
The air conditioners Rheem makes are reliable and long-lasting. They also come with a 10-year warranty.
9. Trane
This company is well known for providing heating and cooling equipment for commercial use. However, this company also makes high-quality air conditioners for household use as well. The Trane brand makes heating and air conditioner systems that have a high SEER rating and they also come with favorable warranties too.
The products this company offers are systems that allow for extreme fine-tuning and therefore it is very important to hire an HVAC technician to help you select the right size for your desired location. This will ensure that you are able to enjoy the benefits of your air conditioner.
10. York
This brand makes air conditioners whose parts are available universally which means the 10-year warranty on parts becomes very effective. The models this company makes are good for stacking which is another highlight for this brand.
York makes heat pumps and air conditioners that are very long-lasting and reliable for both commercial and residential use. The air conditioners this company makes are also energy efficient and environmentally conscious.
York air conditioners also come with an easy to use technology and that means homeowners will enjoy using them for their ease of use. This is what makes York air conditioners very popular among many homeowners.
Conclusion:
Now that you know the 10 best home heating and air conditioning brands and systems to install into your home during home improvements you can start your project better prepared. These systems are also great systems to install into your home or business for that matter if you simply need a new heating and cooling system.
If you are still interested in more information regarding the best HVAC systems for bothering commercial and residential building as well as how to find the best heating and cooling repair, service and maintenance companies in your area, be sure to read the following related articles.
Related Articles:
10 Air Conditioning Services You Should Perform Yearly
Best AC Not Blowing Cold Air Repair & Service Tips
2019 Air Conditioning Repair Cost Commercial & Residential
Avoid Constant AC Service And Repair Work On Your Home
Find 10 Best Commercial HVAC Wilmington, NC Contractors
Hire The Best Commercial HVAC Contractors Service Company
How To Apply For A Commercial HVAC Repairs License
Find Best HVAC Near Me Installation & Repair Services
Find Best Air Conditioner Service Near Me For HVAC Repairs
2019 Average Heating and Cooling Repair & Service Costs